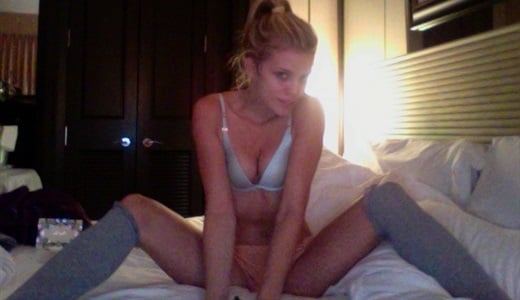 ---
AnnaLynne McCord, Erin Cummins, and Nick Hogan all just had their nude cell phone pictures leaked. Separately none of these "celebrities" deserve a post for their nude photos, but together their combined depravity is just enough to warrant our righteous Muslim wrath.
First up is "90210" star AnnaLynne McCord. For years now AnnaLynne has been prostituting her nearly nude body for attention all over Los Angeles, so it is not surprising to see that her leaked cell phone pics take it to the next level by including graphic shots of her sucking dick and spreading her lady lips. However, it is surprising to see that her lady hole is not a gaping orifice that is covered in sores
Next up is model Erin Cummins, and as you can see in her nude photos below her's is a fitting name. Erin certainly appears to have all the makings of a fine concubine. Unfortunately her scrawny frame would not hold up for long getting pounded by a righteous Muslim's enormous manhood. It is a good thing that girls like Erin Cummins are a dime a dozen for us Muslim men.
Lastly, we have Hulk Hogan's son Nick Hogan's leaked nude cell phone pics. As you can see Nick's photos are pathetically hilarious as they include a random blonde girl, porn star Raven Riley, a picture of his pathetically small penis, WWE wrestler "The Big Show", and finally his mom Linda Hogan in a g-string. You know you are a real loser when the hottest photo on your cell phone is of your mom's fat ass.