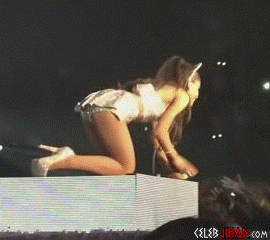 ---
Ariana Grande gets down on all fours while performing in concert in the GIF above.
While a woman on her hands and knees is usually a halal sight, the fact that Ariana is wearing a ridiculously short skirt and bedazzled panties that highlight her tight little ass makes this GIF most haram. Add to that the fact that she instinctively arches her back and sticks up her butt, and one can see why Ariana will soon feel the wrath of a strongly worded fatwa!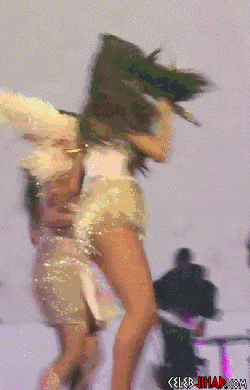 As if getting on all fours and flaunting her taut hindquarters wasn't bad enough, Ariana then showed her allegiance to the L.A. street gang the "Crips" by performing their famous "C-walk" dance move in the GIF above.
The appeal of joining a violent black gang is obvious for a mudshark whore like Ariana, as female members are usually gang banged as part of their initiation. Of course this helps to explain why Ariana Grande seems so comfortable performing on all fours in the first GIF.