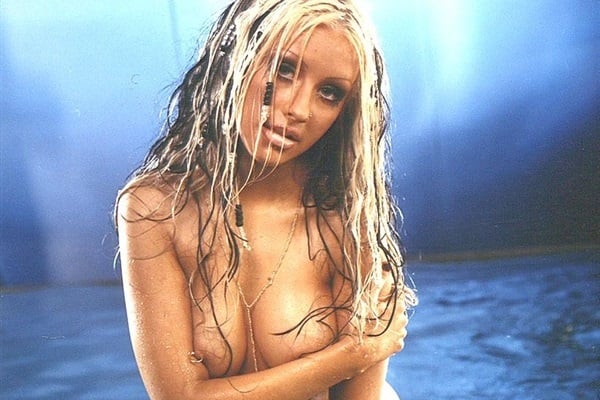 ---
For this week's "Throwback Thursday" we take a look back at 2003 with the complete set (including all the outtakes) from Christina Aguilera's infamous topless photo shoot for Maxim magazine.
One could argue that this Christina Aguilera Maxim photo shoot was a seminal moment in pop music history, for it really set the blueprint for former Disney stars to follow, and they have been brazenly whoring their bodies in mainstream publications to gain notoriety for their crappy music careers ever since.
Yes this photo shoot launched Christina Aguilera's "Stripped" album to the top of the charts, and established Christina as the main rival of then reigning pop queen (and fellow former Mouseketeer) Britney Spears. Of course Britney responded to Christina's challenge by posing for her own semi-nude photos in Esquire later that year (which we posted for last week's Throwback Thursday). This set off a slutty arms race in pop music, which we are unfortunately still feeling the effects of today with the likes of Miley Cyrus, Rihanna, Lady Gaga ect.