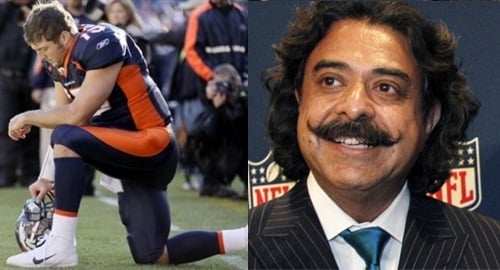 ---
Our sources close to devastatingly handsome Muslim Jacksonville Jaguars owner Shahid Khan have confirmed that he will try to trade for Denver quarterback Tim Tebow, provided that Tebow agree to convert to Islam.
Tim Tebow would obviously make a fine Muslim as he prays often, is repulsed by the thought of laying in sin with a woman, and has tremendous biceps capable of crushing many a Jew skull.
Tebow would be wise to take up Shahid Khan on his offer and convert to Islam. Not only will Tebow be the starting quarterback for his hometown team, but he will be serving a far more powerful God then the Jew Jesus which will certainly help with his passing accuracy.
With a Muslim owner and Tebow as their Muslim quarterback, Allah will surely favor the Jaguars and lead them to many a Super Bowl. Allahu Akbar!