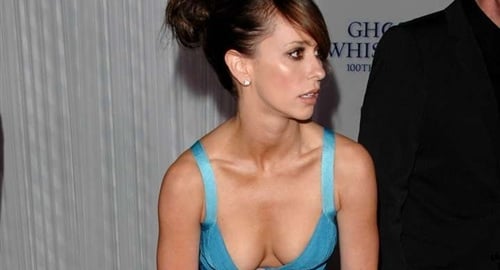 ---
In a last ditch desperate attempt to land a husband before her uterus dries up and falls out, Jennifer Love Hewitt bent over and flashed some serious cleavage at an event in LA yesterday.
Sources tell us that throughout the event Jennifer Love Hewitt was continuously bending over to pick up things, and leaning forward to reach across tables. Also event goers complained that they were being disturbed by a distinct ticking sound coming from Love Hewitt's crotchal region.
Jennifer Love Hewitt needs to learn that these desperate attempts to trick a man into wedlock will not work. Men only want to marry virgins, they will just use her as a reciptical and then leave her for a proper lady.
Here are the pictures of Jennifer Love Hewitt shamelessly flashing cleavage in a desperate attempt to get a husband.