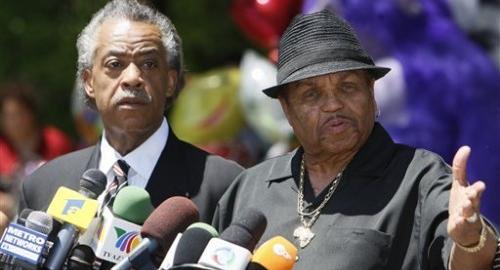 ---
In an exclusive interview with CelebJihad, Jackson family patriarch Joe Jackson spoke candidly about the loss of his son, and about how his parenting style may have ultimately played a role in Michael's tragic life and death.
"I'm not one to sit and dwell on the past, but at a time like this, when a father outlives his son, one can't help but second guess," said Jackson, speaking to us via cell phone from outside the 4 Play Gentleman's Club in Los Angeles.
"I can't help but wonder, if only I had beaten Michael harder, especially during puberty, perhaps he wouldn't have turned into the grotesque pansexual pill-popping he-she boy lover which he became. If only I would have hit him with smaller tree branches, because the smaller ones hurt more, maybe he would have been normal."
Jackson also lamented the fact that he did not have a chance for closure with his son.
"Looking back, there are so many unanswered questions," said Joe. "What is the combination to the safe? Do you have any money hidden in foreign accounts? What's with all these Jonas Brothers' DVDs stacked up in that weird dungeon room?"
But despite his troubled past, Joe Jackson is focusing on the future.
"In the end, our lawyers and accountants can figure most of this stuff out, so it ain't no thaaang!"
Added Joe, "Be sure to visit http://www.hiphopbootcamp.com/ to learn more about my hip hop boot camp. Michael would have wanted it."
(Video of Joe Jackson – Father of the Year)