LOS ANGLES, CA — Sources tell CelebJihad.com that Nick Jonas, lead singer of the wildly popular Jonas Brothers, has lost his purity ring inside his own anus. The ring, which symbolizes Nick's commitment to abstaining from premarital sex, has been missing for hours despite the valiant efforts of his brothers to retrieve it.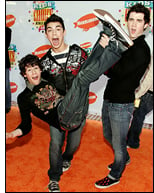 "We kept telling him, 'No rings, no watches,'" said band mate and 'middle brother' Joe Jonas. "But once he decides to play with his 'god button' there's no stopping him."
This is the second incident this month that has called into question Nick's use of the purity ring. Rumors have been swirling that Jonas has been involved in a homosexual relationship with British comedian Russel Brand since the two met at the MTV Video Music Awards on September 7th.
Brand, an admitted sex addict who hosted the awards, has been quick to squelch rumors that the two are dating or that he is a homosexual.
"We're not dating; I only popped him once," Brand was quoted as saying in this month's copy of Tiger Beat.
Added Brand, "While my actions were more than a little gay, I am certainly not a poofter, as evidenced by the fact that this boy is softer and more feminine than half of the cunts I've shagged this month."