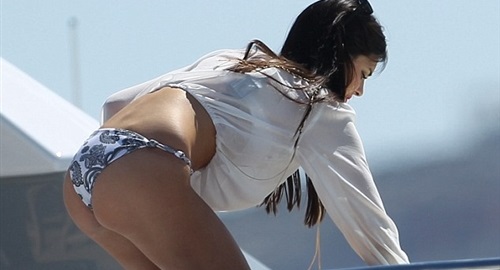 ---
At 17-years-old Kardashian sister Kendall Jenner's biological clock is certainly ticking, and thus so is her viability of becoming a Muslim's wife.
In a last ditch attempt to get her married off before she descends into darkness like her mudshark half-sisters Kim and Khloe, Kendall Jenner was taken to Greece and put in a thong bikini to advertise her wares in the photos below.
Unfortunately for Kendall I am not seeing much in these thong bikini pictures that would pique a Muslim's interest, as her narrow hips do not bode well for birthing, and her weak frame does not look up to handling field work.
I am afraid the best Kendall Jenner can hope for is to serve as a concubine for a Muslim man who is into rough anal with skinny girls. Of course this life is infinitely more favorable to getting involved with black guys like her half-sisters Kim and Khloe Kardashian.