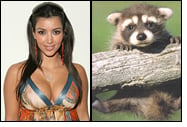 A Los Angles County Judge ordered Kim Kardashian held in lieu of $250,000 bail Wednesday for allegedly torturing a live baby raccoon by pouring gasoline on it and lighting it on fire.
Kardashian, best known for her role on the reality television show Keeping up with the Kardashians, was taken into custody by Los Angels County Police on Tuessday after officers allegedly observed her chasing a small object that was on fire at the intersection of Florence and Normandie avenues. When police got closer, they noticed Kardashian running after the animal and pouring gasoline on it, said Christopher Malarkey, a spokesman for the Los Angeles County state's attorney's office.
The animal was euthanized a short time later, Malarkey said.
Kardashian was charged with one count of animal torture. She faces 2 to 5 years in prison if convicted.