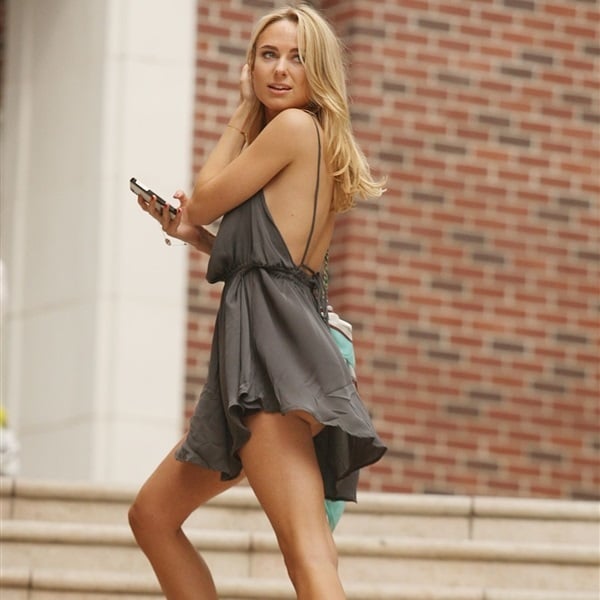 ---
Kimberley Garner is a wealthy English reality TV star and socialite. She is sort of like Paris Hilton only she drinks tea, speaks with an accent, and isn't completely mentally retarded.
Like every other self-respecting fit European party girl, Kimberley has flocked to Cannes in the south of France for the spring season in the hopes of getting her spoiled rich girl orifices vigorously pounded on the yacht of a powerful Muslim man. To that end Kimberley has decided to not so subtly prostitute her ass in public throughout Cannes in the hopes of catching a Muslim's eye.
As you can see in the photo above, Kimberley flashes some ass cheeks in an extremely short dress, while running up some stairs and looking back to see if anyone noticed. However, Kimberley quickly lost patience in this upskirt strategy and instead changed into a tight white thong bikini, and proceeded to brazenly flaunt her taut English fanny on the beach and up and down the boardwalk in the photos below.
Unfortunately for Kimberley Garner she does not understand at all what us virile Muslims find attractive in a woman, for she would have much better odds of getting the righteous banging she so obviously desires if she wore the burka and used her ass to smuggle pressure cooker bombs and AK-47s past the UK customs agents.