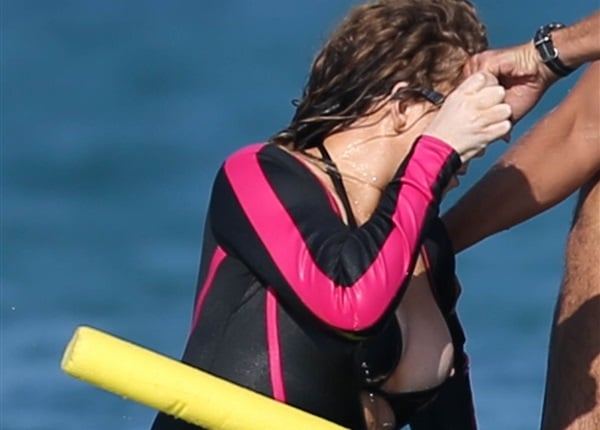 ---
Diva Mariah Carey's fat titty falls out of her bikini top exposing her nipple in the photos below.
Mariah is a fat washed up old mudshark whore, so seeing her literally wash up on shore, flap around on the sand, and waddle along after her mongrel offspring with her tig ol' bitties hanging out and the children's father thousands of miles away is fitting.
However, the fact that this sort of trashy display is expected does not make it any more palatable. For seeing Mariah's bikini top struggling to contain her sloppy engorged breast meat is extremely nauseating, and has resulted in me vomiting up my lamb and feta pita sandwich all over my crisp white tunic. Rest assured Mariah will be receiving a dry cleaning bill in the mail… and maybe some anthrax… that was a Muslim terrorist that was sending that right?