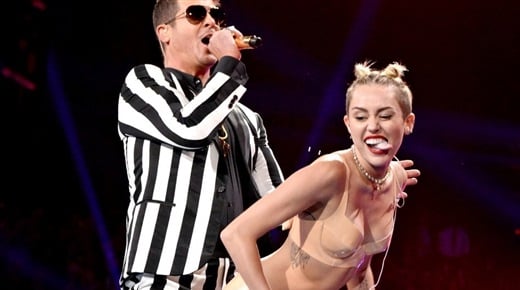 ---
Things are going perfectly to plan as secret Muslimina Miley Cyrus brings death and destruction to the infidel West.
It is being reported (TMZ) that Miley Cyrus was to blame for pop star Robin Thicke's wife Paula Patton recently filing for a divorce. According to sources close to Paula, she was humiliated and her marriage to Thicke was irreparably damaged when Miley famously grinded her lady bits all over Robin's crotch during their MTV VMA performance.
Not only did Miley Cyrus destroy Robin Thicke's marriage with the debauchery in her VMA performance, but (as you can see in the video below) she also blew up the Starship Enterprise killing beloved heathen space commander Captain Kirk and the rest of the Star Trek cast.
Of course Miley did not stop there. As you can see in the video below, while performing on her "Bangerz" tour in Los Angeles earlier this week, Miley gave fellow pop star Katy Perry a literal kiss of death by leaning in for a kiss then biting her head off in front of 20,000 screaming fans.
Like all acts of violence committed by Muslims this oral decapitation of Katy Perry was completely justified, as Katy had just released a blasphemous new music video for the single "Dark Horse" in which she burns a man to death who is wearing Allah's name around his neck (Daily News).
Thanks to Miley Cyrus, Katy Perry, the cast of Star Trek, and Robin Thicke's marriage are all burning in the pits of the eternal hellfire. May Allah bless and continue to guide Miley on her righteous slutty Jihad.