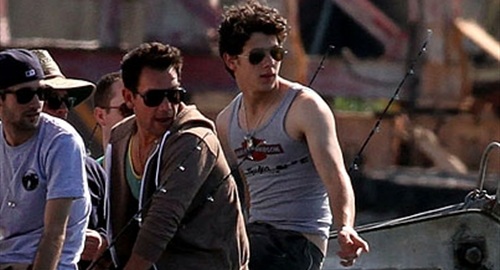 ---
Earlier today Nick Jonas threw on his most gay tank top and jumped on board the SS Penis for an extremely low budget gay cruise.
Nick Jonas came out of the closet, more or less, last week when he was photographed prancing around with a male purse or "murse". Ever since then the runt of the Jonas Brothers litter has become more bold in his gayness.
Nick's gayness is quite understandable since he has been forced to sing and act since childhood, but what is not forgivable is his cheapness. Nick Jonas is a famous celebrity with millions of dollars he should be able to afford a much more extravagant and flamboyant cruise than this.
I'm sure there is a certain appeal to a gay man being packed on a small boat with a bunch of other dudes, but wouldn't Nick have a better time on a more spacious ship were he can run around on his tippy-toes with pink feathers trying to tickle the other boys? I mean I seriously doubt that clunker of a ship he is on has the capacity to make more than a few mojitos an hour, and I really doubt it even has a spanking station in case a boy gets too naughty.
Nick Jonas has got to realize that being gay is not easy, and you have to invest the money to do it right if you are going to be successful at it.