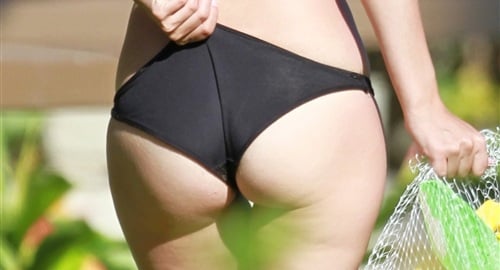 ---
Well Rachel Bilson is nothing if not persistant. After failing to seduce me yesterday with these tiny bikini pics, Rachel has stepped up her game with these pics showing her tight butt in a bikini.
I have to say Rachel Bilson is being more obvious than ever that her loins ache for my seed. I mean in the first photo in this set she is sporting a major camel toe. What better way to attract a virile Arab man like myself than by sporting the toe of a camel between her legs.
Rachel Bilson is starting to wear me down with these sexy bikini pics. Even though she is a vile Hollywood prostitute I would still consider mounting her from the back, but I would stay true to Allah and deny her my essence which would land all over her back.
Bear witness to Rachel Bilson's latest attempt at seducing me with these pics of her tight ass in a bikini.