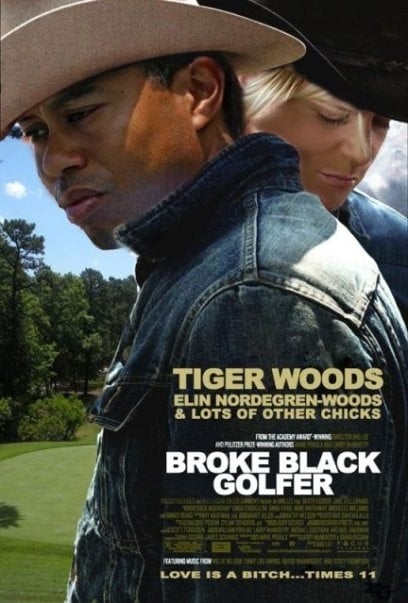 ---
Tiger Woods and his estranged wife Elin Nordegren have been cast in a new movie. The film which is scheduled to begin shooting in February is a sequel to the popular "Broke Back Mountain" franchise tentatively titled "Broke Black Golfer".
In the movie Tiger will play a cowboy golfer with a penchant for whores… lots of whores. Elin will play his cowgirl wife who is stuck at the ranch watching the little ones as Tiger goes out on his late night "roundups".
The movie's climax comes when a group of bandits storm the ranch while Tiger is in town fingering a bar maid. Elin fights them off with her trusty 9-iron. When Tiger returns home stinking of cigarettes and Astroglide Elin has finally had enough and she smashes Tiger's face with a 3-wood. The movie ends with Elin divorcing Tiger and getting a 300 million dollar settlement. It's a real tearjerker.