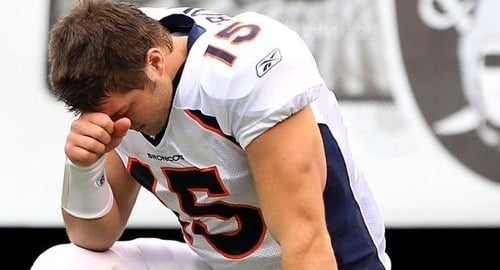 ---
After losing to the New England Patriots on Sunday, Denver Broncos' quarterback and devout Christian Tim Tebow is reportedly now questioning his faith in the Jew God Jesus.
After completing a remarkable run in which the Broncos won 6 straight games in miracle fashion, Tebow appeared to be receiving some divine intervention. However, even with Jesus on his side, Tebow and the Broncos came up short against the Patriots, and now Tebow is wondering if he didn't back the wrong God.
Tebow is reportedly considering switching his allegiance to Islam. According to a source, "Tebow just believes that the Christian God can only take him so far, and going into the playoffs he is going to need a stronger and more masculine God on his side if he is going to win it all".
Obviously us Muslims would welcome Tim Tebow into our faith as he is a great athlete and his enormous arms could easily crush many a Jew skull. If Tebow does the right thing and converts to Islam I will guarantee that Allah will smite those who oppose him and he will win the Super Bowl. Allahu Akbar!